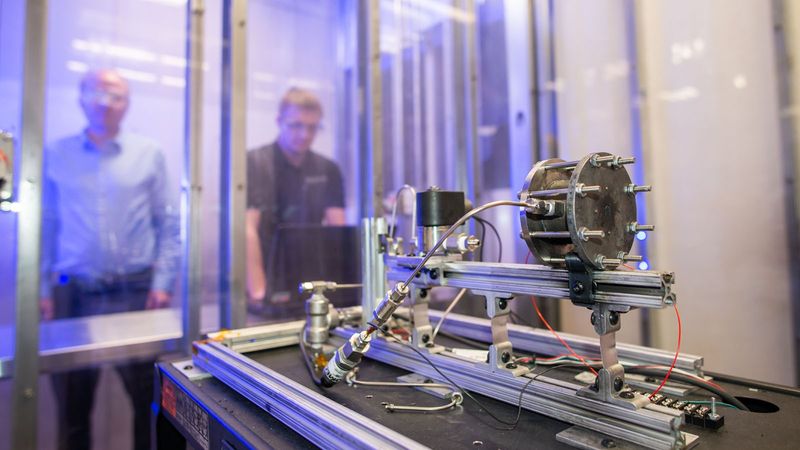 SDL Multidisciplinary Systems Engineer Tyson Smith and Propulsion Engineer Zachary Lewis prepare a miniature propulsion system for SmallSats for a test firing at SDL's Small Satellite Propulsion Testing Center. Their invention, the Miniaturized Green End-Burning Hybrid Propulsion System for CubeSats, was one of three patents awarded to SDL in 2022. (Photo Credit: SDL/Allison Bills)
NORTH LOGAN, Utah, Jan. 12, 2023 — Utah State University's Space Dynamics Laboratory and eight of its employees were awarded three patents in 2022 for inventions that will propel technology advancement in air and space.
Consider this scenario: A large satellite in orbit needs a new part. Ordinarily, the satellite would experience reduced capacity — if not become obsolete altogether. However, suppose a small satellite, colloquially known as a SmallSat, could rendezvous close enough to the large satellite and replace the affected part. In that case, years of degraded service and tens of millions of dollars could be saved.
"The rapid growth in SmallSat technologies continues to stretch the imaginations of mission planners as they consider new ways to use spacecraft ranging in size from a palm-sized cube to satellites the size of a household refrigerator," said Tyson Smith, an SDL multidisciplinary systems engineer. "The propulsion industry has struggled to come up with designs that are small enough to work for SmallSats, provide a high enough thrust to perform large velocity changes quickly, have a relatively large total impulse, and that can perform precise maneuvers for SmallSat station-keeping, formation flying, or rendezvous and proximity operations."
Challenge accepted.
Smith, along with SDL Propulsion Engineers Zachary Lewis and Kurt Olsen, and SDL Scientist and USU Professor Stephen Whitmore, went to work solving the problem and invented a miniature propulsion system for SmallSats to address this technology gap. Their invention, the Miniaturized Green End-Burning Hybrid Propulsion System for CubeSats, uses a mix of solid and liquid fuel that, unlike much of the conventional rocket fuel used today, is harmless to humans.
When SDL was tasked to reengineer obsolete data cartridge readers that store onboard computer information for aircraft, SDL met the assignment with several innovative methods to help drive down costs while improving performance.
"While SDL has long created solutions for Earth's upper atmosphere and the space domain to answer scientific questions and support the Department of Defense, a significant portion of our research and development efforts inhabit the other four domains — air, land, sea and cyberspace," said SDL Distinguished Engineer and Scientist Morgan Davidson. "A key requirement for reengineering the obsolete data cartridge was to bring the overall costs down for the new units, and our team went to work exploring new ways to do that. This included a novel approach to secure circuit cards within the cartridges."
To reduce hardware and labor costs, Davidson and SDL Mechanical Engineering Group Lead Mike Watson invented the Spring Lock, which replaced the two legacy circuit card retention devices in the data cartridge readers. Since then, manufacturers have delivered over 3,500 data cartridge units based on SDL's design package — each unit containing two Spring Locks.
SDL licensed the Spring Lock technology under its commercial name, Wavelock, to Wakefield-Vette, a legacy circuit card retention device manufacturer which makes Wavelock available to the commercial market.
SDL was also awarded a patent for its See-And-Avoid Sensor. The sensor uses novel in-flight detection for distant objects on a horizon against background clutter.
Aircraft flying at high speeds may only have moments to detect and avoid an oncoming plane or other objects in the flight space. However, atmospheric conditions may make the visual field difficult to see. For example, an oncoming aircraft close to the horizon may be obscured by haze. To help contend with such background clutter, SDL invented techniques that provide fast, automated detection and alert systems that detect objects in poor visual conditions.
In addition to the three patents awarded in 2022, SDL submitted applications to the United States Patent and Trademark Office for an additional nine patents during the year.
"As one of only 14 Department of Defense University-Affiliated Research Centers, SDL serves as a subject matter expert for its core areas of expertise while maintaining essential engineering, research, and development capabilities for the government," said Dale Andersen, SDL's patent attorney and general counsel. "Developing novel technologies enables SDL to continue to deliver advanced solutions to support land, sea, air, space and cyber defense, protect national intelligence assets, and apply remote sensing and satellite heritage to challenges in planetary science, Earth observation, heliophysics and astrophysics."
Headquartered on Utah State University's Innovation Campus in North Logan, UT, the Space Dynamics Laboratory is a nonprofit organization and a Department of Defense University Affiliated Research Center owned by USU. More than 1,000 dedicated SDL engineers, scientists, business professionals, and student employees solve technical challenges faced by the military, science community, and industry and support NASA's vision to explore the secrets of the universe for the benefit of all. SDL has field offices in Albuquerque, NM; Chantilly, VA; Dayton, OH; Huntsville, AL; Ogden, UT; and Stafford, VA. For more information, visit www.sdl.usu.edu.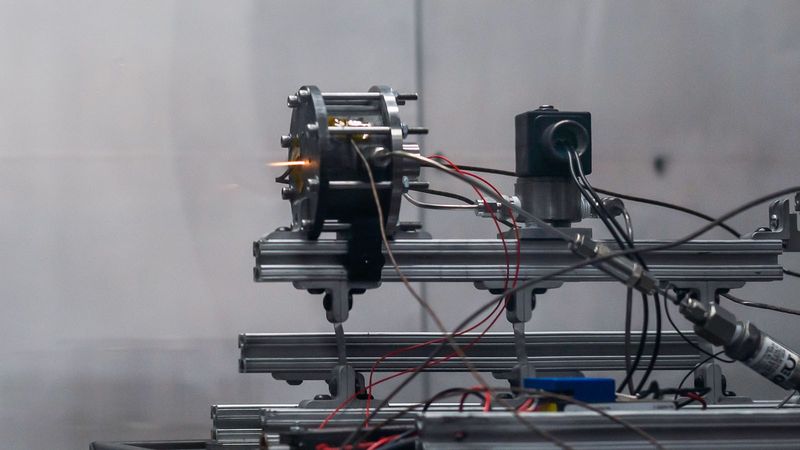 Contact
SDL Public Relations
(435) 713-3054