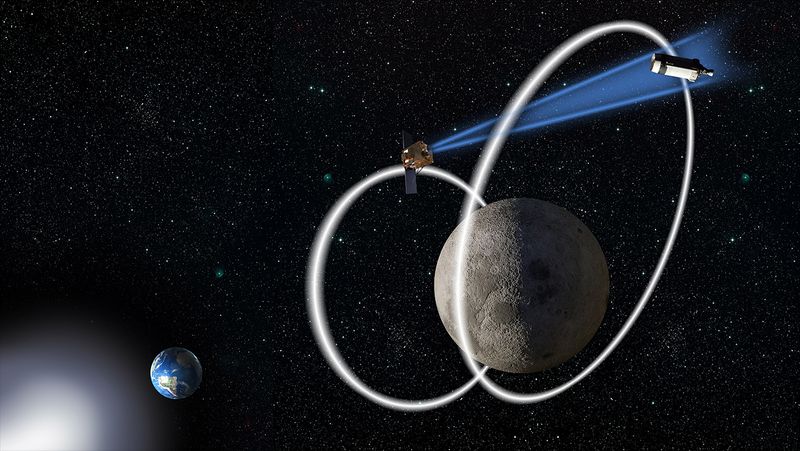 The AFRL Cislunar Highway Patrol System is one of many programs that will benefit from a more rapid contracting vehicle, to advance space research and development. (AFRL graphic)
KIRTLAND AFB, New Mexico (AFRL) — The Air Force Research Laboratory (AFRL) has awarded its largest-ever contract for space-related technology development and mission support.
The contract, worth up to $1B, was awarded to Utah State University Space Dynamics Laboratory (USU/SDL) a University Affiliated Research Center (UARC) to ensure an essential engineering, research, and development capability, provided by an educational or other nonprofit institution.
The scope of work covered under this record-breaking award includes space-related research and development activities for AFRL and its mission partners.
"This contract solidifies the long-term strategic partnership between AFRL and USU/SDL. The partnership will accelerate critical space science and technology projects, especially when we need to quickly respond to urgent and unexpected needs," said Col. Eric Felt, director of the AFRL Space Vehicles Directorate. "It will allow us to focus on proactively out-innovating our peer competitors to ensure the Space Force continues to have the technology required to deter conflict and assure our nation's critical space capabilities are available whenever and wherever needed
The Space Vehicles Directorate will serve as the single center of excellence for space within AFRL, with respect to the utilization of USU/SDL in their capacity as a non-profit UARC providing essential and continuing capabilities to perform critical tasks in support of space missions for a variety of U.S. government customers.
"The overarching objective is to conduct scientific investigations and technology, research and development in the UARC's core competency areas without the bureaucracy and delay of awarding multiple smaller individual contracts," Felt said.
Research areas include:
Space-related Sensor Systems
Space-cyberspace and Information Related Capabilities
Nuclear-Related Science & Technology Deterrence Operations
Advanced Satellite Navigation and Global Positioning Systems (GPS) Technology
Precision Quantum and Photonic Sensors
Space Environment Exploitation and Mitigation
Small Satellite Portfolio
Distributed RF Sensing
Col. Jon Luminati, Integrated Experiments and Evaluation Division chief explained what this record-breaking contract will do for those working at AFRL, and at USU/SDL.
"This is a great example of how government and university researchers can partner together to solve the difficult problems that exist in space," he said. "By bringing together the top minds from academia and those working in our labs, we will be able to greatly advance our understanding of space, and the challenges we face operating in that domain."
The new space renaissance around the world with allies and adversaries, requires a commitment by our nation's academic institutions, to educate world-class scientists and engineers to maintain and advance U.S. interests in space.
"This contract represents a vital contribution to assuring that the United States remains on the leading edge of research and development for space-based technologies. The Space Dynamics Laboratory is honored to be a trusted partner of Air Force Research Laboratory and the U.S. Space Force to develop technologies for new missions and maintain core capabilities for national defense," said Dr. Jed Hancock, president of SDL.
The Space Dynamics Lab has been a trusted partner in furthering space technologies across the DOD, for many decades.
"As a University Affiliated Research Center established by the DOD, to operate in the public interest, USU/SDL remains committed to developing and for the Nation. With a strong UARC partnership in place, we look to a bright future in providing innovative solutions to expand our knowledge of space and how we work in it," Hancock said.
Contact
Joanne Perkins
Air Force Research Laboratory Public Affairs